You Should Teach English in Taiwan
Teaching in Asia is super easy, and you can make a ton of money. Also, Asia is the best. I keep getting emails about how to move to Taiwan to teach, so I've decided to write a series on it. Here's the first one:
Why you should teach English in Taiwan!
Taiwan is fantastic, and I cannot recommend it enough. Obviously everyone has their own opinion, but expats that have worked in Taiwan plus either Japan or Korea typically say they prefer Taiwan.
East Asia tends to be best place in the world to save money while teaching English. Here's a breakdown of average teaching wages per month: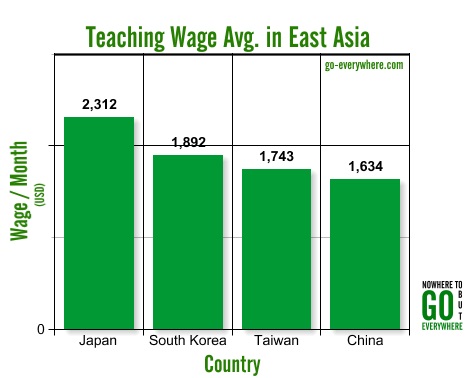 Japan pays the most but you typically need teaching experience, so that one's out for a lot of potential teachers. (And although you make the most money there, it's also crazy expensive to live. You make more but you spend more, so you won't necessarily be saving more).
Second most money is made in Korea. BUT, the weather is very cold a majority of the year, and I have heard that foreigners aren't as well received in the big cities. I can't say this from personal experience since I've never been to Korea, but I've been told this more than once from expats who have lived there.
Third most money is made in Taiwan, where I taught. It's also a tropical island with incredibly friendly people. (I'm wildly biased, but there you have it.)
In China you'll most likely be making less money and the quality of life isn't as high, so only head there if you've got a real thing for Chinese culture (bonus points for Taiwan-- it also has traditional Chinese culture).
Then heading over to Southeast Asia, you have Hong Kong, Thailand, Vietnam and Cambodia that are the main teaching places. Hong Kong pays very well but it's competitive. None of the others pay quite what East Asia pays, but still offer decent wages for a teacher, so really the deciding factor is where you like the culture best, because it varies quite a bit. Thailand has the most foreigners. Good food, huge expat community, decent money-- probably the most popular place to teach in Southeast Asia, so it's a solid choice.
So-- back to Taiwan, because it's the best.
Yes, teachers make slightly less there, but it's not a significant difference. Cost of living is very, very low, especially in smaller cities and towns. (Like the one I lived in-- I had a fully furnished, 3 bed 2 bath apartment, with a flat screen and a piano, which I paid under $300 a month for.)
Taiwan has everything.
Taipei and Kaohsiung are mega-cities that have all the shopping, tech, food and fashion you could want. Cafes, mega-malls, fancy restaurants, clubs and bars, whatever you're looking for.
The island is beautiful. There are golden beaches and mountain hiking trails, lots of jungles and waterfalls-- I prefer the nature side of things, so that's what appeals to me.
The locals love foreigners, especially if you live in the south of the island. They are very willing to help you out. People are non-aggressive and the crime rate is very low.
In fact, Taiwan is ranked the 2nd safest

country in the world based on FBI crime statistics.
Life is easy there. I was able to save quite a bit of money every month, working about 20 hours a week on average and not being particularly frugal. (Couldn't give up the cheeseburgers and lattes.) If you eat local food you'll be spending a dollar or two per meal-- unless you cook at home, in which case you can obviously spend even less.
I'm wildly biased because I'm completely in love with the country. But if you have any other questions or want to know specifics, please ask! I'd love to sell the place to more people.
Granted, it's not for everyone,

but you know, some people are crazy.
Stay tuned and I'll be following this up with articles on how to find a job, what you need to know about visas, and tips for how to make the move.