Top 10 Things to Do in Kaohsiung
Kaohsiung is probably my favorite city, ever. It has beaches, sky-scrapers, mountains, and art-walks. It's a metropolis of neon lights, steel and glass, street carts, temples, and parks. The people in Southern Taiwan are quite possibly the friendliest I've ever encountered on my travels. It is a place I love, and a place I would love to make you love, too.
Before I reach over-blown territory with my introduction, here are my top 10 favorite things to do in Kaohsiung, Taiwan.
1. Bike around Lotus Lake
This was one of the first things I ever did in Kaohsiung, and it remains my very favorite. There are many places to rent bikes for a day in the city (make sure you have a debit or credit card on you, because the system is all automated and you'll need one!)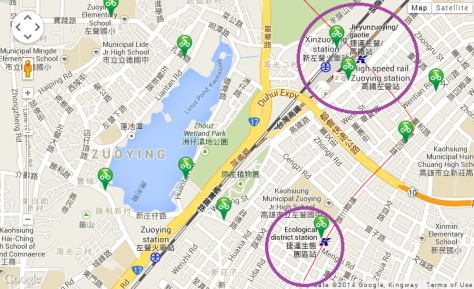 Biking around Lotus Lake is a fantastic use of a half or whole day. The entire lake is surrounded by temples and pagodas. The most famous pagoda sends you in the mouth of a dragon, and out the mouth of a tiger. It's a beautiful way to see the culture and get some exercise. And make sure to stop for some of the fresh fruit, juices, smoothies, and ice cream that the street carts are selling!
2. Check out the Art District
Kaohsiung has made art a priority. And yes, they have the let's-all-stand-and-debate-what-this-means variety if you check out the galleries in Pier 2 (which I have, and their constantly rotating displays are very cool and worth the visit), but they also have a meandering path along the harbor with funky statues, quirky cafes, and unique craft stores all around.
I've spent hours on this path, filling my belly with sweet treats and taking goofy pictures with the random statues. (They even have a replica of Bumblebee from Transformers standing guard!) This is not your average walk, or your typical gallery. This is a fresh creation where the locals go to ride their bikes, hang out, and breathe life into their beautiful city.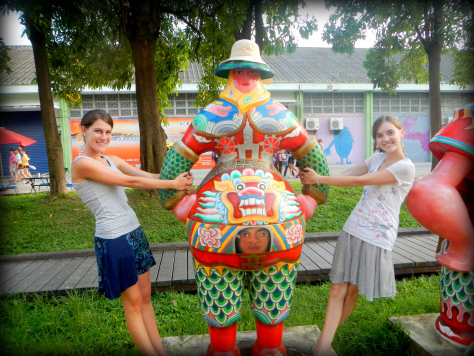 3. Wander along Love River in the evening
If you just keep following the water from the Art District, you'll soon arrive at Love River.
In the evening Love River comes alive. Locals set up stands and sell hand-made trinkets, jewelry, art, and snacks. There are also cafes and restaurants lining the water just waiting for you to pull up a chair and order yourself a cup of coffee or a cold beer.
You can take a boat ride along the river for just a few dollars, and the bridges glow with neon under-lighting, reflecting off of the water's surface. It's more than just a little romantic.
4. Take the ferry to Cijin Island
If you head to the Gushan Ferry you can hop on board for only NT$15 (about $0.50) and float over to Cijin Island. The island has a beach (go on a weekday, because it can get crowded on a weekend), a beautiful cliff-side lighthouse, and tons of fresh, delicious seafood.
Back to pushing the biking angle-- you can rent bikes right outside of Sizihwan station (it's the closest MRT to Gushan Ferry), and take your bike with you on the boat for an easy way to explore Cijin.
5. Hike Monkey Mountain, befriend monkeys
There are some fantastic hiking trails up Shoushan (literally translated to Monkey Mountain-- and for good reason!). The paths are wooden walkways with lots of signposts to keep you from getting lost (unless you WANT to, of course. In which case, head down some of the side routes and spend the day out in the jungle-- it's amazing.)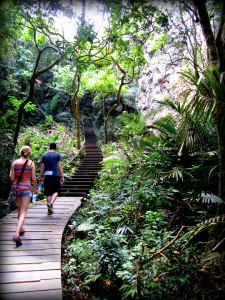 Be prepared for a good work out and lots of stairs. But it is so worth it! I have never spent a day out on Monkey Mountain that didn't involve seeing tons of monkeys up close. They're very brave and very used to people, so they don't bother running off when you approach. They'll just watch you, sprawled out in an overhanging tree or even right on the path, so you get to be the one to skirt around them. The babies tend to be particularly curious, but the mommas don't let them wander too far.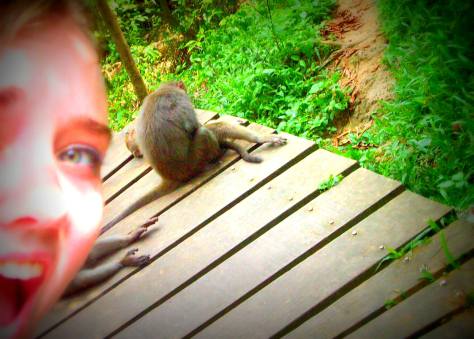 Don't eat on Monkey Mountain. I learned this the hard way when a monkey literally jumped on my back to take my cookie. Not an experience I plan on repeating. But so long as you aren't tempting them with delicious cookies, they're very friendly.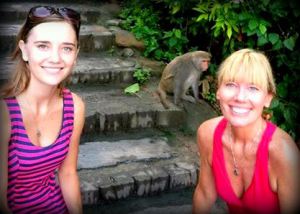 Bonus points! If you make it to the top, there is a tea house serving free tea and water with a great view of the harbor far below. It's a gorgeous reward.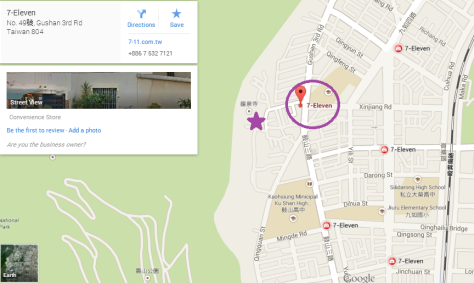 6. Have a beer in Central Park
Central Park is, obviously, right in the heart of the city. It's a sprawling park with gardens, fountains, bridges, aaaaand, beer. Yeah, beer.
There's a Beer Garden that serves dinner and drinks from 5pm to 11pm every day except Tuesdays. They almost always have live music going with bands and djs, and on weekends they often have displays of fire throwing and dancing. It's all out-doors, so pull up a bench and enjoy a beer in the park.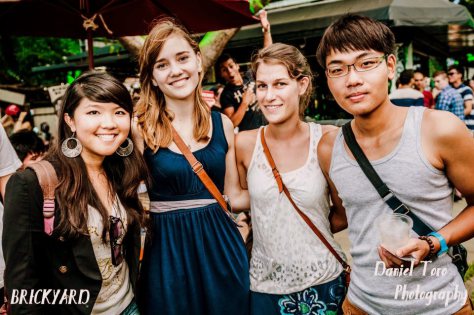 (And when the Beer Garden closes you can walk a block to the Brickyard, same owners, for arguably the most popular bar in the whole city.)
7. Ride the subway (No, really, I'm not kidding!)
Kaohsiung has the best metro stop you'll ever see. Seriously.
Go to the Formosa Boulevard MRT station, where the red and orange lines intersect, and follow the signs to the Dome of Light. It's so worth it.
The Dome of Light is a gorgeous stained glass piece of artwork that represents Water, Earth, Light, and Fire through seamless and beautiful transitions. It is one of the largest public art installations in the world, and is a hidden gem under the busy roads of the city.
8. Find peace at Fo Guan Shan
Just a half hour out of the city is Fo Guan Shan, a sprawling Buddhist monastery and haven for peacefulness and reflection. It has the same layout as Beijing's Forbidden City, with walled courtyards leading up a long walkway to a temple, then on to the next courtyard-- they get more impressive as you go, and at the back temple are three enormous golden Buddhas. They also have museums and gardens tucked into their monastery, as well as beautiful and ornate statues of the Buddha.
Just a block down the road is a Buddha Memorial Center (they have a shuttle that will take you from one to the other). The Memorial Center is just as visually impressive as the monastery, with a stepped temple and another giant Buddha that peacefully watches over everything. At the Center you can go through interactive tours that will teach you Buddhist history, culture, and beliefs. You can also try your hand at painting famous Buddhist verses in Chinese calligraphy with traditional brushes and ink.
9.  Go to the Dream Mall and ride

the rooftop Ferris-wheel 
The Dream Mall, one of the largest malls in all of Asia, is on the edge of the city in an area that has been growing quickly in the last few years. (The closest MRT is Kaisyuan Station). It's a huge shopping center that in a lot of ways is just a mall. But in other ways, it's very unique, and very Taiwanese.
The whole building is lit up in neon lights and flashing LCD screens. You walk inside and paper butterfly-like creations dangle from the ceiling. They usually have enormous displays of balloon art scattered among the different levels. It's filled with high fashion, tech, and plenty of quirky Asian trends.
Head to the rooftop and there's a ferris wheel that is definitely worth the ride. Go in the evening so you can see the nightscape of the whole city, and take the Hello Kitty and Open Chan decor with a grain of salt. You are in Asia, after all.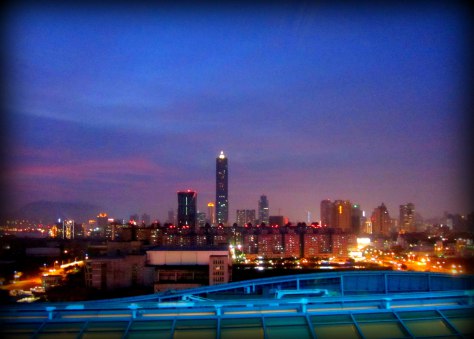 10. Munch on street-treats from the

biggest night market in Southeast Asia
Ruifeng Night Market is a dream. If you love mad-house crowds, clutter, street food, cheap clothes, and carnival games. And let's be honest. Who doesn't??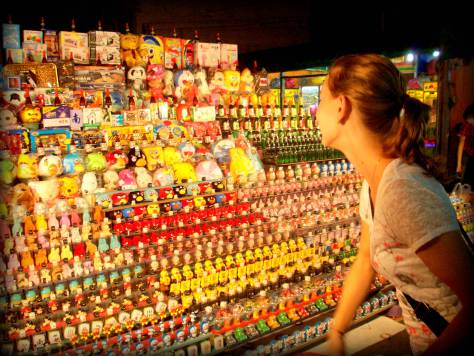 Prepare yourself for the quintessential Asian night market experience-- this is the largest night market in all of southeast Asia.
Closest MRT is the Kaohsiung Arena Station, and the crowds are best (i.e. craziest) from about 8pm to 11pm. It's a mess, but you can't help but love it. Try ALL THE FOOD. Some of it is weird. Some of it is wonderful. You can't know until you try it, so dig in.
You should also get a few ridiculously cheap and fantastic t-shirts. My personal favorite is one that has a cat wearing hipster glasses, and it says, "Meow you doin'?" HA! Isn't that the best? Thank you, Ruifeng.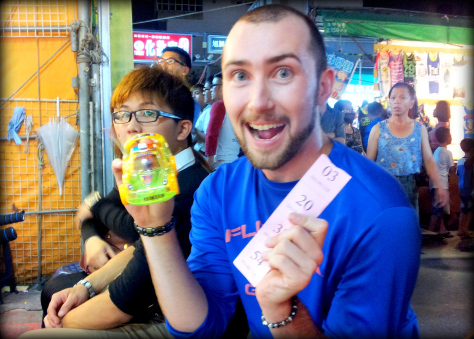 So there you have it.
My list of top ten things to do in Kaohsiung. It's an amazing city. I love it. (Can you tell?) If you have other recommendations for what to do in Kaohsiung, feel free to leave a comment and share! It's a pretty great city. If you ever get the chance, explore it.