Kuala Lumpur, to End Things
For our final stop in Southeast Asia (on this trip, anyways), we headed to Kuala Lumpur and met up with our good friend, Ronnie. He's another American we'd met in Taiwan, and he's pretty great.
Our hostel was in China Town (because, where else?), right beside the Petaling Night Market. We spent our first night catching up, telling stories (we had plenty!), and drinking at the nearby Reggae Bar. White Russians, because that's what I drink.
We headed into the heart of the city the next morning and realized that Kuala Lumpur is very different from the rest of Southeast Asia. The hippie pants and beach-wear we'd grown so accustomed to in Thailand, Cambodia, and Laos were nowhere to be seen, and I'm pretty sure we would have won some condescending stares had we opted to wear them. Instead we donned jeans and shoulder-covering tops, despite the extreme heat. This was the first Muslim country Nicole or I had been to, and we were wary of giving offense.
We explored Bukit Bintang, the main shopping hub, and we realized we truly were in a mega-city. The malls extended in all directions, the signs flashed high-end designer labels, and the shine of glass and steel was everywhere.  By the end of the day I'd seen enough fashion malls to last a lifetime.
Day 2 was when Nicole and I made our mad-dash to Singapore for 24 hours, and Ronnie spent the day with other friends in the city.
On Day 3, Nicole and I were completely and truly exhausted, but we didn't have many days left in Asia, and Ronnie was more than ready to sight-see! After checking out the Petronas Towers, we decided we'd go see the Bird Park. We grabbed a taxi and the driver said he knew the way.
We made a mistake. We mentioned that our plans for the next day were to go to the Batu Caves. "Oh, no, no, you must go today!" the taxi driver told us.
But no, we wanted to go to Bird Park today, and we wanted to go to Batu Caves tomorrow.
"Can't go tomorrow! Big holiday! It's closed, no foreigners can go tomorrow."
Ronnie, Nicole, and I all exchanged concerned looks.
"I don't think that's right..." Nicole said hesitantly.
"It's right, it's right! I take you to Batu Caves today. Not too expensive. Only way to go!"
And that was the taxi driver's mistake, because we knew there was a metro you could take to the caves. So we insisted on going to the Bird Park with much more confidence. The driver sulkily agreed.
I fell asleep.
In heavy traffic the taxi driver suddenly swerved to a stop, "This is close to Bird Park, that way! Road closed, I can't go more." He demanded a huge amount of money. We looked around confused, I blinked sleep out of my eyes, and the cars stuck behind us started honking in frustration.
"Quick, quick, get out, can't stop here!" He shouted. Money was handed over. I tried to ask where we were, but he shooed us on, and he suddenly peeled away.
"...How much money did we just give him? And where is the Bird Park?"
There were several shrugs and head shakes passed back and forth. And so began our very, very long walk the rest of the way to Bird Park. Plenty of taxis passed by, but they were all full. The road was definitely not closed.
But eventually we made it to the park, and although we'd become rather frustrated, the park was very impressive. It's one of the largest outdoor aviaries in the world, and we got up close to hundreds of beautiful and exotic birds (and quite a few local monkeys).
The peacocks were the best, as the boys were busy chasing after the girls and that meant lots of showing off their beautiful tail-feathers.
From the Bird Park we walked back to the city, passing ornate mosques and never-ending skyscrapers.
We walked all the way to the Kuala Lumpur Tower, where we paid for a very expensive buffet in the Atmosphere 360 restaurant. The food was good, but the price was really paid for the view-- Kuala Lumpur Tower is the tallest tower in Southeast Asia, and the restaurant rotates at the very top of it. As we ate we watched the city full of light slowly spin below us.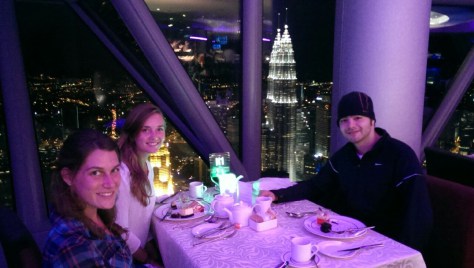 Day 4 we headed to Batu Caves. There was no holiday. It was definitely open. The metro took us right there.
Batu Caves is one of the biggest Hindu shrines outside of India. A colossal statue of the god Murugan guards the entrance, and from there it's a long walk up the mountain stairs to the opening of the caves.
The caves are definitely a fitting home for the gods-- colossal caverns filled with shrines, while skylights let in golden light. Unfortunately years of wear-and-tear, and the never ending tourist business has allowed shabbiness and clutter to pervade the ancient halls. But there is still an undeniable element of augustness lingering there.
The next day was our last day. We bought last minute souvenirs and Christmas presents for friends and family back home, we said our goodbyes to Ronnie and made promises to meet up again as soon as possible.
And then our trip was over. We'd spent two months backpacking Southeast Asia, and it was filled with truly unforgettable memories and incredible moments. It was time for us to go home, but not for long-- we were already making plans for our next trip.