You know what I'd never done before? I'd never lived in a hippie commune. So while I was traveling on my own through northern Italy I decided it was high time I tried it out-- and as luck would have it there was a hippie commune in Tuscany just waiting to be lived in! 
I caught a bus out of Rome and headed north, then switched to a minivan since I was going to a more remote area. We arrived at Arcidosso by nightfall and I practically fell out of the van; curvy roads are not my forte. I stood on the street and tried to text the leader of the commune but no reply, so I just started walking.
The road twisted and split in two and I shrugged and picked one that led me into an alleyway dimly lit with lanterns.
I had this unshakable feeling

that I'd stepped back in time.
There was no one but me out on this chilly night; the street was cobbled, the buildings were old stone. I passed a store selling wrought ironwork that had been left propped up against the side of the shop, but no workers to be seen. At the top of the road the area opened up into a small courtyard, a castle to my left and a row of homes to my right-- and on the side of one of those homes was a paper banner proclaiming the Libereria. I'd stumbled onto my hippie commune.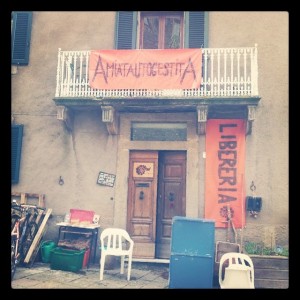 I knocked at the door but was only met with singing voices from inside. I knocked again and the door swung open, spilling light and sound into the courtyard. I was enveloped in a hug as someone proclaimed, "Ciao amico!" I'd just met Lorenzo, the man behind the Libereria.
I was shown a room filled with bunkbeds where I dumped my bags, then we headed into the living room where the singing and talking was still at full speed. The room was filled with a hodgepodge of people, languages, styles, and demeanors. 
A man from Denmark offered to share his dinner with me; he'd made pasta with broccoli, cheese and ham. It wasn't until after I'd eaten most of what he'd handed me that he added,
"By the way,  I got all this out of a dumpster.

I hope that's ok." 

Well. I guess so. Since I'd already eaten it. 
And then Lorenzo came over to us, flustered and visibly upset, "Who... who... who brought this into our home?" He waved his hands over the package of ham.
"I did," the man from Denmark replied.
"No! No dead animals allowed here!"
"It came out of a dumpster. I prevented it from going to waste. Surely you see that it's better that the animal wasn't murdered just to be thrown away. His life wasn't ended for nothing now."
Lorenzo took a deep breath. "Ok. Just this one. No more dead animals again."
I hadn't said anything during the exchange. I just watched, wide-eyed, then looked at my empty bowl where my dumpster food had been.
"Hey, I'm going to look for more food tonight. Want to come?" the man from Denmark invited.
And you know what? I did want to go.
And so late that night a small group of us headed out into the darkened streets to make rounds of the local market's dumpsters. I even climbed inside one and helped pull out bags of bread. Apparently the food is tossed as soon as it starts to wilt or hits its "best by" date, even if it's still ok.
We only took food that was bagged or packaged,

but the whole experience was still a shock to me. 
Over the next few days I read books, drank copious amounts of tea, ate dumpster food, and sat by the fireplace to ward off the winter cold where I heard streams of ideas and arguments about politics, sustainable living, culture, conspiracies, and society.
My views weren't in line
with most of those at the Libereria, but I just listened, fascinated to be in a place where everyone saw the world so differently from me.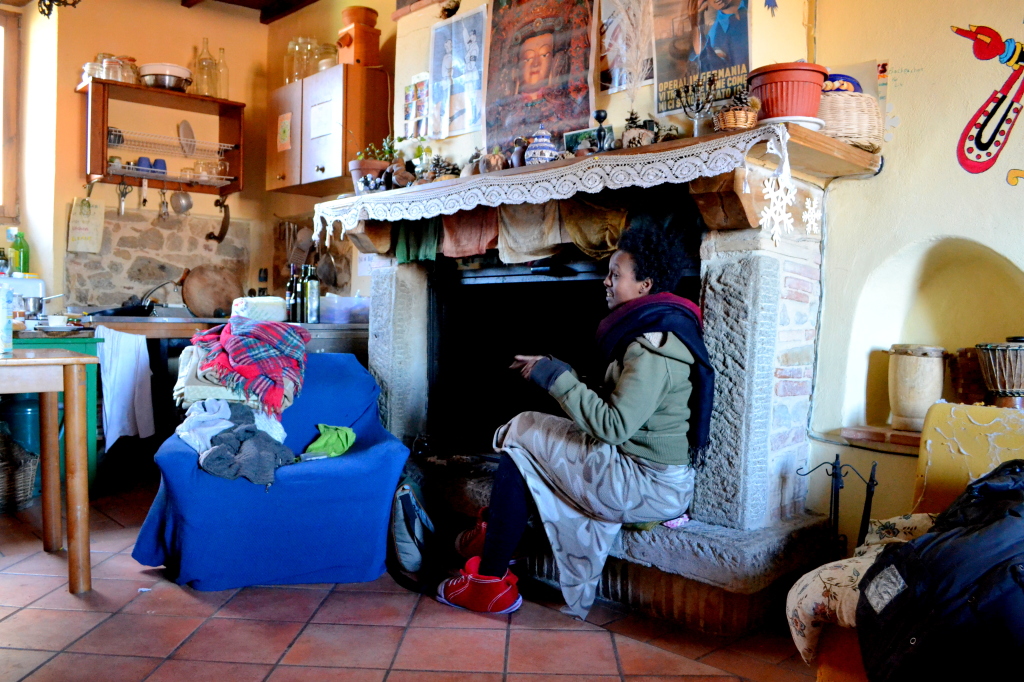 Later in the week another American girl, Rachel, came to stay at the Libereria. As interesting as it had been to be among people with radically different views, it was nice to have someone with a similar cultural background around.
On a warm afternoon Rachel, me, and a few others hiked off into the hills to try and find a cave that was allegedly a secret refuge for the historical counterpart of Merlin the Wizard. We didn't find it, but we did find this sewage drain and decided to call it good.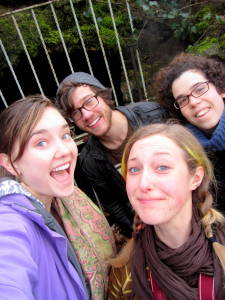 Other days were spent in the Libereria gardens, cultivating food for those staying at the commune or to sell in the local markets.
We also spent afternoons exploring Arcidosso, with its hilltop castle and winding alleyways.
It always felt like a fairy tale there,
as if the pages of Hans Christian Anderson
had spilled out and become an earthly town. 
\
It was several days of quiet cafes, lots of books, time-worn streets and watching the sun set over the town while Rachel sketched and painted.
My time at the Libereria was cut short, however, when Rachel and I decided to share a bottle of wine, and then another. I woke up still reeling and very cleverly decided to grab my backpacks and board an early bus to Grosseto. My head cleared up when we were halfway there-- in time to enjoy the incredible Tuscan countryside, not in time to go back to the Libereria.