I was sitting on a bus after leaving the hippie commune, head foggy from wine, wondering where I was going and what I was going to do there. Rachel had to head back to Rome but I was going north to Florence, probably.  
I'd bought a ticket from Grosseto to Florence, but I had to switch trains in Pisa. So I ran out of the station, hopped a local bus, took this very excellent (very hungover) picture of the Tower of Pisa, practiced my Chinese with the Chinese girls that took the picture for me, jumped back onto another bus and caught the next train to Florence. Well worth the detour.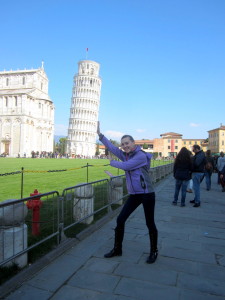 In Florence, or rather, 'Firenze', my phone had already rescued me, because I'd used it to find a couchsurfing host in the city while I was on the train. The bus system is a mad house, but I made my way to the other side of the city, found a coffee shop the host had mentioned, and chilled out with a latte till he arrived.
And soon he was there. Luigi, suave and charming, had me clamber onto his motorcycle and whisked me away through the streets of old Firenze. We dropped my bags off at his place, I showered a week of commune life away, and we headed into the heart of the city. A night of gelato, tapas, drinks, and lively conversation with Luigi's friends made for a very good first impression.
In the morning I set off on foot to explore Firenze. It's a beautiful city of cobbled alleyways and stone arches, sandstone buildings and glittering lanterns. The shop windows sparkle with luxurious Italian goods of jewelry and clothes and cars. There are museums down every street displaying some of the greatest works of the renaissance. Aging frescoes and triumphant statues adorn every hall, every corner.
I explored the Uffizi gallery where the works of Boticelli, Da Vinci, Michelangelo, Raphael, and Rembrandt all hang. I stood in line for hours at the Accademia-- but it was worth it to see the towering statue of the David of Michelangelo. I've never been emotionally moved by a piece of artwork, but David was incredible. All I could do for a very long time was stand and stare in wonder.
At the Duomo I wandered the cathedral, tip-toed through the catacombs, and climbed the bell-tower to see a breath-catching view of the city with its white buildings topped with orange rooftops all covered by a blanket of blue sky.
The thing I couldn't shake, however, was a pervading sense of loneliness. I was in one of the most beautiful cities in the world, the birthplace of Western art and culture, and a bit of graffiti scribbled onto the side of a church struck a chord more than any of the magnificent pieces of art or architecture: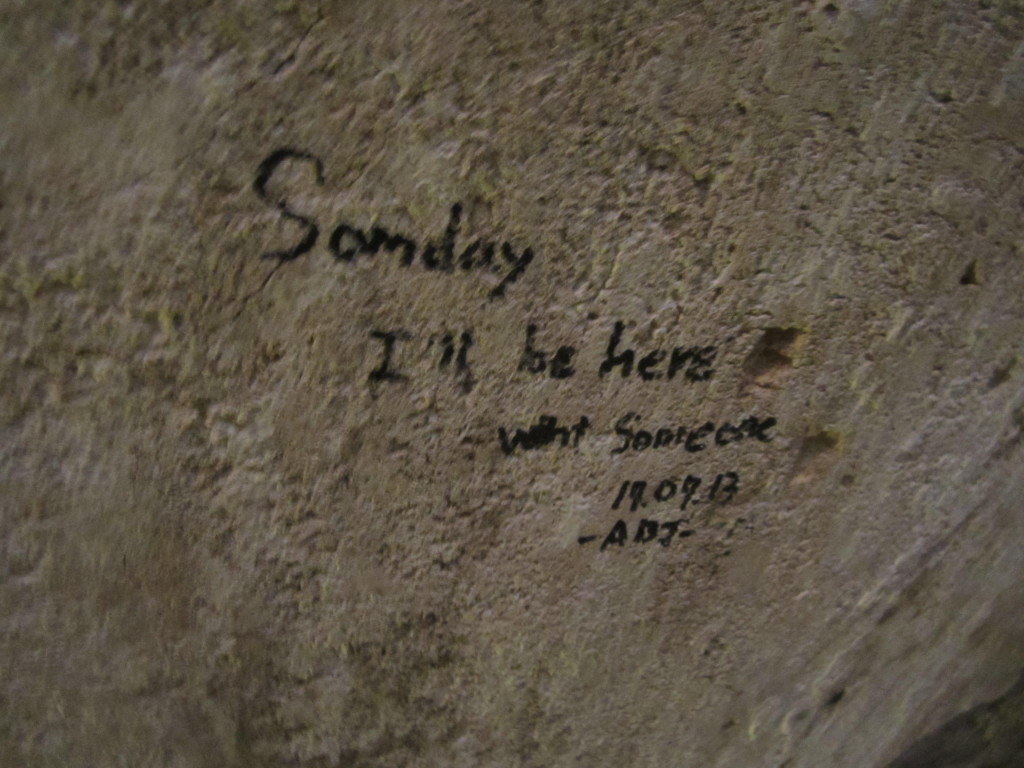 Another night out with Luigi and his friends, and I said goodbye to beautiful Firenze. Someday I'll return, with someone I love.