Southern Italy and the Perfect Pizza
Do you know what I love? Traveling. Ok, you're not shocked in the slightest. This IS a travel blog after all. It would hardly be appropriate to keep it up if I didn't love traveling.
But specifically-- I love that Travel, with a capital T, is never really what you were expecting. Especially if you just go with the flow. (How cliche was that?) If you just say,
"Ok, I'm going to take things as they come.

I don't need a plan! I'll just see where I end up."
So that's what I was doing in Italy. I was going with the flow. I hadn't planned to go to Italy at all, and yet there I was, on a very early, slightly hungover sort of morning, boarding a train out of Rome with a strong coffee in one hand and a small backpack in the other, off to see a bit of Southern Italy with friends from Ireland. 
We switched trains in Naples, where graffiti-marked rail cars flew past cement towers and gravel alleyways, and rode on out into the countryside. Soon we'd arrived in Pompeii, the ancient city destroyed by the eruption of Mount Vesuvius. The volcano still hovers over the city ominously, a reminder of its old power.
The city ever remains and so we wandered through the streets. It was a cold morning but the sun was out and the sky was blue, so we were content to spend the day exploring. The roads are still cobbled. The homes are still tiled and their walls are still decorated with colorful frescoes. The columns still stand with an ancient pride.
The city doesn't let you forget its glory,

however faded it may have become.
Perhaps the most moving part of Pompeii are the plaster casts of those trapped by fire and ash as it rained down on the city. Their final horrible moments have been preserved and displayed, and it's a disturbing, but incredible, thing to see.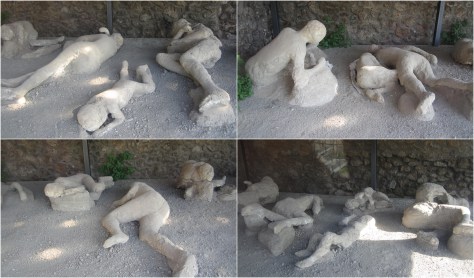 From Pompeii we headed on to Sorrento, where we sipped limoncellos and ate heaping plates of pasta. We stayed the night there, eating most of the time.
Gelato, pizza, and wine.

I could get used to Italian life.
In the morning we made our way to Sorrento's beautiful harbor. It's a hop-skip-and-a-jump to the Amalfi Coast, and the bright colors are a reminder of that. The turquoise bay was flanked by towering cliff-sides and topped with colorful hotels, shops, and very lucky homes.
We boarded a ferry that took us out to Capri Island. The views were phenomenal. And Capri Island had the best views of all.
The Island is small and we took to it by foot, which was maybe a mistake, but that led us along small alleyways and side-streets as we made our way up the mountain roads to the center of Anacapri. There were four in our group and soon the very, very steep incline had us in debate. So while Jimmy and Ciaran kept charging upwards by foot, Liam and I turned around, found a bus stop, and arrived at the town center minutes behind the other two and considerably less winded. I stand by my decision.
We wanted to see the Blue Grotto and, once again on foot, headed in the general direction-- the Blue Grotto is a bay with allegedly the bluest waters anywhere. The island continued to amaze us with how beautiful it was, but soon we started to realize we were running out of time-- we  had to catch the last ferry off the island, which meant catching the last bus back to the harbor, which meant getting to the Blue Grotto very, very quickly.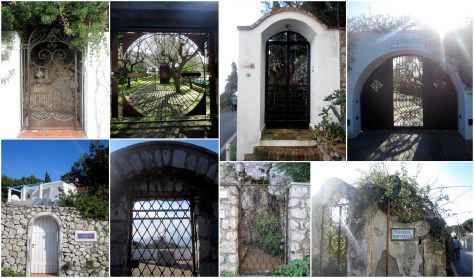 So next thing we know, we're practically running along the curvy, hilly roads of Capri. We knew we were close to the Blue Grotto. We knew the bus would leave in a matter of minutes-- we rushed our way there--
We arrived! The bus was sitting at the stop! Would the driver just... let us SEE the Blue Grotto? Yes, if we hurry, but no time to go down to the beach, just from the bus stop.
So that's how we ended up with a flustered photo of us with some water in the background that you can't really see. (I'd snapped a few pictures as we'd run towards the bus stop-- not quite of the Blue Grotto, but the water looks nice and blue...)
We did make it back just in the nick of time to catch the last ferry of the day. We disembarked in Naples, and decided it was high time for some dinner.
Did you know that Naples is the birthplace of pizza? And you can go to a restaurant that is said to be the best pizza in the whole world? It is, and you can-- L'Antica Pizzeria Da Michele.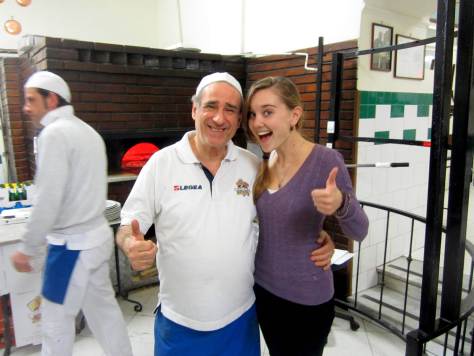 I consider myself a true pizza connoisseur (yeah, right), and this stuff was amazing. I ordered a pizza Margherita with extra cheese-- floury, doughy crust, piping hot tomato sauce, gooey mozzarella-- there's no way to properly describe it. Perfection on a plate? Heaven's dinner special? Ok, I'm going over-board.
But it was the best pizza I've ever eaten.
I had to box some of it up to take with me... I'm a small person and I ordered a whole pizza for myself. I don't regret it in the slightest. Even eating the leftovers cold and out of a box hours later was incredible.
With sleepy eyes and full bellies we hopped back on a train to Rome-- I hadn't even begun to see the ancient capital.