I have a test in the morning that I don't want to study for, so I'm going to update.
This week we've been taking it pretty easy. We have finally sort of hit a wall and needed to catch up on our rest. You can only run so long! But we've still had plenty to fill our time, even when we just hang out in Pingtung.
Our culture classes this week have been interesting. Monday we learned about the diabolo, or Chinese yo-yo. They're fairly ridiculously difficult, but lots of fun. I'm thinking I'm gonna invest in one and try to learn a few things. It would be a fun random skill to have in my repertoire. Nicole picked it up pretty quickly, and was already throwing it into the air by the end of the lesson.
Tuesday we learned about traditional Taiwanese tea ceremonies. It's incredibly complex and restrained; the art of tea is taken extremely seriously here and to become a master of the tea ceremony takes three years of practice. Every movement and part of the ceremony is strictly regulated and performed with absolute delicacy and care. It would help me work on my short attention span… it takes a long while before you're served your tea, and longer before you're allowed to speak to your neighbors.
We had divided into groups, so after our group learned about the ceremony we sat around the cafeteria for the other group to finish. While we waited we munched on traditional Taiwanese snacks. One of these snacks is a candied plum, and Nicole and I weren't exactly prepared for how sour they were…
That evening we had a mahjong competition. I definitely did not win. I'm not so great mahjong… Then the rest of the evening I just hung out around the dorms. It has been raining, raining, raining lately in Taiwan.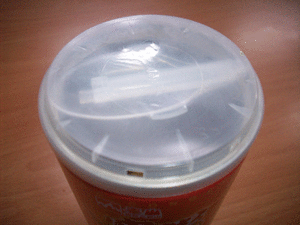 This morning I missed breakfast, and there was a can of beans in the vending machine. They were ok, but the really important part was the incredible magical spoon that was hidden in the lid and unfolds. I animated a GIF file to show you it's amazing skills. And also because I wanted to figure out how to make animated GIFs.
Tonight a group of us went to an American restaurant called Gary Bee '69, where they had the biggest burgers ever on the menu. The burgers were great, but definitely not quite an American burger. It was an awesome place; they had old American movie posters and license plates covering the walls, and played classic rock songs. I was rather impressed by the guys that ordered the giant burgers… Luis, Stephen, and Youming all got one, and all three of them finished the damn things. I would have exploded.