In Rome there was Pasta and Wine
When I think back to the time I spent in Rome I think of the food and the wine, and I think of the three guys I was traveling with. Too smart for their own good, their back-and-forth banter was like a high stake's contest where cleverest comment wins.
References that went completely over my head were spouted, from the Great Morrisey Debate to the who-can-bring-RuPaul-into-the-conversation-most competition and an unexplainable love for some game show called The Crystal Maze that I'm sure I will never understand. But despite my absolute bewilderment, they never ceased to entertain.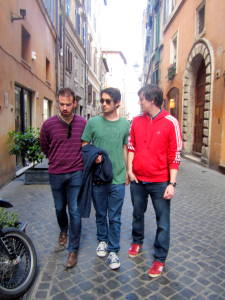 The four of us wandered the cobbled streets of Rome, gorged ourselves on heaping plates of pasta and drank more than our share of the free-flowing and wonderfully inexpensive table wines that every single restaurant seemed to have. No matter where you went restaurants were loud and bustling and cafes with umbrella covered tables on the curb could be found. Even though I was stuffed to bursting from pasta and wine there was always extra room for fresh gelato-- my favorite was a creamy peanut butter flavor, but really you couldn't go wrong.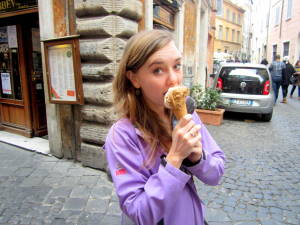 Window shopping took on a new sort of wonder, because each shop seemed to be filled with trinkets and paintings and antiques and old postcards, lamps and grandfather clocks and leather shoes and hand-tailored suits. In the Piazza Navona we explored a weekend market where stalls sold every type of pasta, cheese, and spice you could possibly imagine. A band played music on a dulcimer, bass, and saxaphone by the fountain and Jimmy, the most musical person I've ever known, got caught up in the sound of it so we stood there eating gelato by the market while the music played.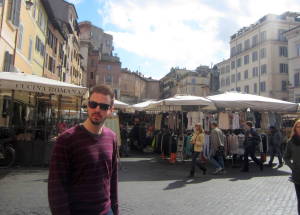 Ruins of the Roman Empire are still right in the heart of the city where modern life has simply grown around them. Marbled pillars and ancient hallways have stubbornly continued to stand tall and their determination is nothing short of admirable. Although the once grand buildings are now home to local stray cats, they still give the city the reminder of ancient might. 
We explored the Colosseum and Jimmy and I battled it out as gladiators. It was a bloody battle but I was victorious in the end. It's hard to imagine the violent history of the arena-- but the building itself leaves a powerful impression.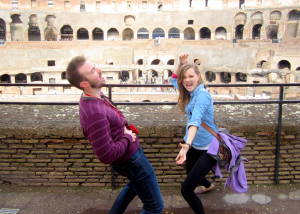 The Vatican Museum was an early morning stop for Jimmy and I; we hurried there before he had to head to the airport. The time-constraints were less than ideal, because we practically ran past priceless works of art without a glance. We were determined to see the Sistene Chapel before he had to go. We stumbled into the crowded and darkened room and stood there with our necks craned back staring at the ceiling for as long as we could, then rushed out to get him to the airport.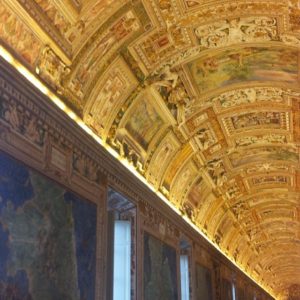 By the way, if you're heading to Rome I definitely recommend that you buy your tickets to places like the Colosseum and the Vatican Museum ahead of time online. Ciaran let us in on this tip and it was a huge time-saver.  I almost felt guilty as we walked ahead of the lines that stretched on and on and on...
The guys headed back to Northern Ireland and England, and I climbed on to a bus. I was going to be traveling on my own for awhile, and my first stop was a little town called Arcidosso in Tuscany, where I was planning to stay in a hippie commune. I figured I'd never done that before, so I had decided to try it out.