In January, I went to Nepal. It was eye-opening. It was different from any other place I've been before. It was beautiful, ugly, awe-inspiring, off-putting, and more than anything else-- unforgettable. 
It began with a rough start. A layover on a discount Chinese airline resulted in my second flight being cancelled for 24 hours, and being stuck in Guangzhou for the night. It was a moment of "Aaaand, I'm back in China. Of course." Luckily I got to know some of the other travelers on my flight and they were fun and interesting people, so it made losing an entire day of my trip much more bearable.
I arrived in Kathmandu to be greeted by a very excited Karlis. He was the reason I'd decided to head over for the trip, since he was still living in Pokhara and paragliding.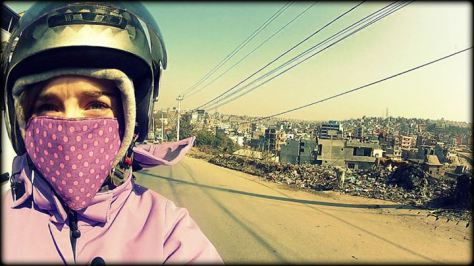 Our first few days were spent exploring the old capital. Kathmandu is a mad house-- it is loud and hectic and frenzied, with high-rise buildings sitting on lawns of mud surrounded by tin shacks and iPhone stores and small goat herds and stray dogs nosing through garbage to find their lunch. Cars honking and people shouting fill your ears while dust and car exhaust and incense fill your lungs. The air smells like perfume and sewage and spice and mud.
It's an overwhelming introduction. I was wide eyed and amazed as we zipped through the streets on Karlis' motorcycle. It's almost too much to take in at first.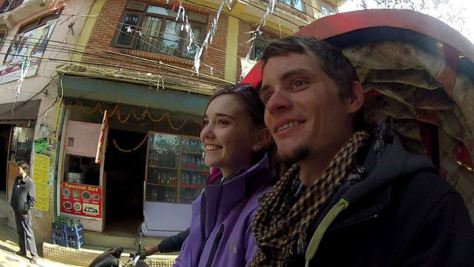 We wandered the streets of Thamel, the market area, where scarves and jewelry and Northface jackets hang out of shop windows. We rode a rickshaw though crowded lanes. We headed to the edge of the city and climbed a trail where monkeys tried to steal our cameras, walked around Swayambhunath stupa and looked out over the sprawling city. It looked much more peaceful from a distance.
We didn't stay in Kathmandu for very long though. We got an early start, strapped our bags to the back of the bike, and swerved through the twisting roads of the city out into the foothills of the Himalayas. All of a sudden the street went from maddeningly hectic to totally empty. It was just us and the road and the mountains. (Of course, there was an occasional bus that would come careening around a blind corner, laying on their horn and not slowing down even as it would lean perilously out over the sheer edge of the mountain road-- but those heart-stopping moments just kept things interesting. Wouldn't want to get bored on a trip like this!)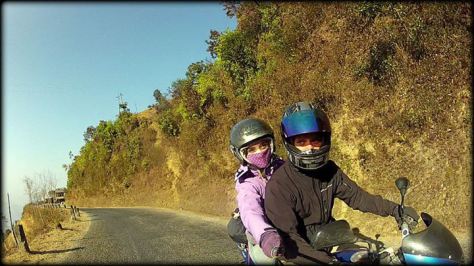 The drive took all day, winding around the skinny writhing roads. You could peer out along the mountain range and see the road wrap around a cliff side that would sometimes take several more hours to reach. It was emptiness and great expanse. It was  dusty blue sky and brown crags and green jungle and distant white mountain caps.
By dusk the roads had flattened out, and still we drove. Well past nightfall we rode into Chitwan, where the wilderness borders India. We were little icicles, glued to the seat of the bike, as we pulled into a hotel. Thankfully there were hot showers, spicy dhal bhat, and warm beds, where exhaustion took us straight away.
The next morning we rose early and headed out into Chitwan National Park to ride elephants. This was the thing I had been waiting for! We climbed up onto the back of a great gray beast and the driver took her stamping into the jungle. From our seat on the elephant's back we spotted deer with towering antlers, chattering monkeys, and a herd of lazy rhinos, napping in a sunny glen. There were tigers prowling the same area, but they kept to themselves that day and we didn't spot any.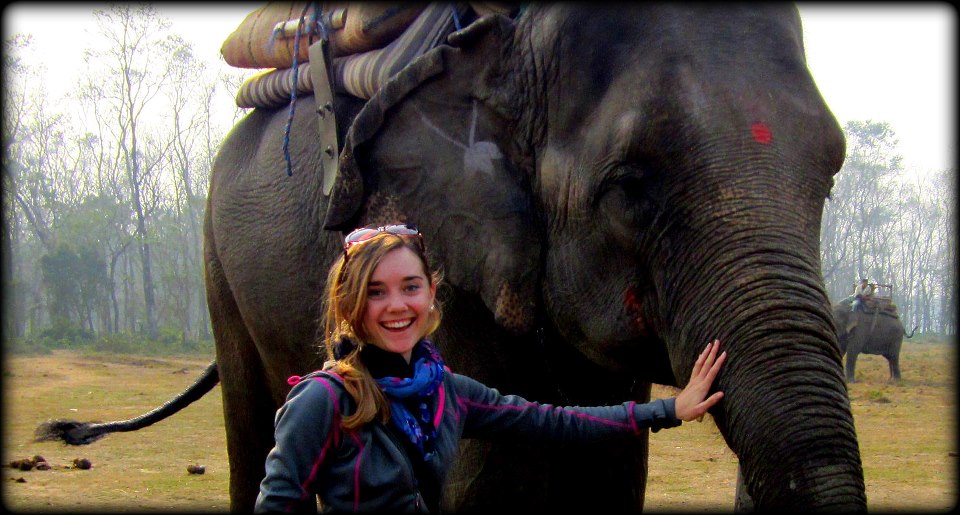 After our elephant ride we went back into the town and found a place to eat by the riverside. We sat in reclining chairs, sipped drinks and filled our bellies while we watched Nepalese men ferry people back and forth across the water in little wooden pole boats. A herd of camels walked around us as they were shepherded home, and then a trumpet call made us turn around to watch a man tiredly ride his elephant through the street at the end of the day.
It was back to the road the next day, as we left the jungle valleys and climbed up into the Annapurna range of the Himalayas. The drive took the day again, climbing the ridges higher and higher into the chilly thin air. It was a much riskier ride-- at one point we had to inch along an ice covered road, to fall would be to fall hundreds of feet over the edge of a cliff-- but it was also more beautiful. The peaks of these mountains were snow-covered and rose far above the misty clouds. The little villages we drove through were something out of a novel-- little mud hovels with brightly colored saris flapping on clotheslines.
By evening we made it to Pokhara, where we'd be for the rest of my trip. Pokhara isn't like the rest of Nepal. It's filled with hikers and paragliders and hippies. It has a lot of western food. A lot of weed. A lot of Northface. We ate pizza and ice cream sundays and drank lattes in Pokhara. But it was still Nepal-- the roads are made of mud and half-built buildings abound, and like everywhere in Nepal, cows wander the street without restraint.
We went flying everyday. I rode tandem in Karlis' new wing-- it had been too many months since I last flew on my own, and to fly in the heavy sky-traffic in Pokhara you need to be fairly skilled. The vantage from the sky over the Himalayas is breathtaking. Annapurna's fishtail peak shoots into the sky like a dagger. Brightly colored wings spin in the sky riding thermals up to the clouds. Pokhara lake reflects the sunlight like a mirror far below. We would stay in the sky for hours at a time, gliding over the ridges, maneuvering around other pilots, catching the heat from the thermals to rise. It was beautiful.
That was how we spent the last of our time-- flying over Nepal. Karlis had to pull everything together and tie up a few loose ends, because he had decided to return to Taiwan for the spring and summer. He bought new gear, said his goodbyes, and soon we were climbing onto a rickety old bus for a very long trip back to Kathmandu. We boarded flights, and headed back home.
Nepal was something else, in its own category of places I've traveled to. I am so thankful to have had the experience. And now I can't wait to get on to my next adventure!