Sometimes plans go haywire when you're on the road, but that's just a part of traveling. You hope for the best, plan what you can, and make adjustments as you need to. So when Nicole suddenly had to fly back to America at a moment's notice and I was left to travel Europe alone-- well, it wasn't how we'd wanted things to go-- but we made it work. Traveling will rarely be exactly what you expect it to be.
So she headed back home and I hopped a flight from Dublin to Leeds to hang out with an old friend for a week, then caught a train to London to stay with a friend of that old friend.
And oh, how it worked out!
You see, that old friend, his name is Jimmy. And Jimmy was going on holiday to Rome soon, and would I like to go too? Well, of course I would! But first, London, because I'd never been there before. So Jimmy's friend Ben became my friend Ben and showed me the city.
We rented bicycles on a sunny Saturday and Ben played tour guide. We rolled around the Natural History Museum and gawked at the line that stretched out to the street, which was more than enough to convince us not to wait in it.
We cycled over to Hyde Park and Kensington Gardens where we made our way up and down the meandering bike trails, stopped to snap photos of statues and memorials, and sat awhile by a fountain with a couple of ice cream cones.
At Buckingham Palace we pretended to be extra posh, as our posh-pictures clearly show. The stony-faced royal guards were roped off because tourists were being 'too obnoxious'... can you possibly imagine? But we found them just in time to catch them march and salute in perfect tandem.
And on we cycled to find Westminster and Big Ben, highlighted by the bright blue sky.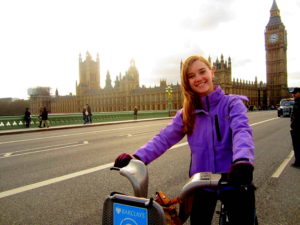 In the evening we stopped at a pub to watch an Ireland-England rugby match that I won't talk about anymore. (It didn't go the way we hoped.)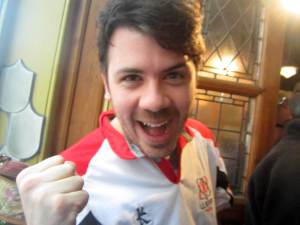 The next afternoon we wandered over to Tower Bridge-- NOT London Bridge, which I definitely did not call it and I certainly didn't receive rolled eyes for being a clueless tourist.
And THEN I WENT TO HOGWARTS. Here's proof, as I skirted through the magical gateway at Kings Cross Station at Platform 9 3/4. I'd show you magical pictures, but muggles aren't actually allowed to see them. Sorry.
In the evening Ben and his girlfriend Lisa performed at an open mic night, and they were awesome. And then it was time to meet Jimmy in Rome, and so I was on my way.