It was a rough start in Beijing. But things did begin to improve. My host found a nice hotel for me (and then I never spoke to him again. Trust issues, and all that). This place had an actual lobby, security cameras, and clean rooms. Those three things are wildly under appreciated, I think. So I lived in the second hotel for a week. I spent my time apartment hunting (a challenging feat when you barely speak Chinese) and registering for classes.
It took a solid week of wandering around the Haidian District and scouring online classified ads before coming across a service called Beijing Buddy, which is a company that sends out volunteers to help international students find housing. It was a lifesaver; by the second day of going out with Beijing Buddy I found a roommate (Matthias, from France) and an apartment that is just a five minute walk from campus, or just a two minute walk to the subway station.
The apartment needed a lot of scrubbing, but we've got it feeling pretty cozy by this stage. Everything in China seems to take a bit longer. Signing the lease felt like a marathon. Setting up the internet took a solid week. Getting the place paid for took hours.
My school, Renmin, is rated the third best school in China, but is the top school for liberal arts (with a strong focus on Political Science), so it's exciting to be here learning the Chinese perspective on international relations. My classes are Chinese Foreign Policy, Chinese Society, and China's Grand Strategy. Lessons are in English, because they are designed for international students. The only thing I wish I could change about my courses is my schedule— I go to class from 6pm to 9pm on Tuesday and Thursday… and 9am-12pm on SUNDAY. So much for weekend trips!
There's a coffee shop in the international student's building where I went during the week I didn't have internet at the apartment, and it was a good way to get to know other students. There are very few Americans here, but tons of Europeans. The people I have met and become friends with are from all over; England, Ireland, France, Spain, New Zealand, Germany, South Africa, Kazakhstan, and elsewhere. The only nationality that I seem to be missing is Chinese— I don't know ANY Chinese people yet. There's an English corner here on campus every Friday evening. I'm going to go there this week, because apparently it's the best place to get to know Chinese students (who show up hoping to practice their English), so we'll see how that goes.
Last week I went to a music festival called Black Rabbit, where I got to see Ludacris, 30 Seconds to Mars, and Grandmaster Flash, among others. It was an interesting experience. There weren't many Chinese there, but tons of westerners. The Chinese who were there had unusual ways of partying— all the girls were wearing animal ears and tails, one girl had a huge rabbit head mask on, and another had a live rabbit in a tiny cage that she fist pumped in the air while dancing to Ludacris. (I hate to think whether the poor creature survived that frightening experience, but it got a lot of attention at the time). It was a good night, and fun to see some of the big names.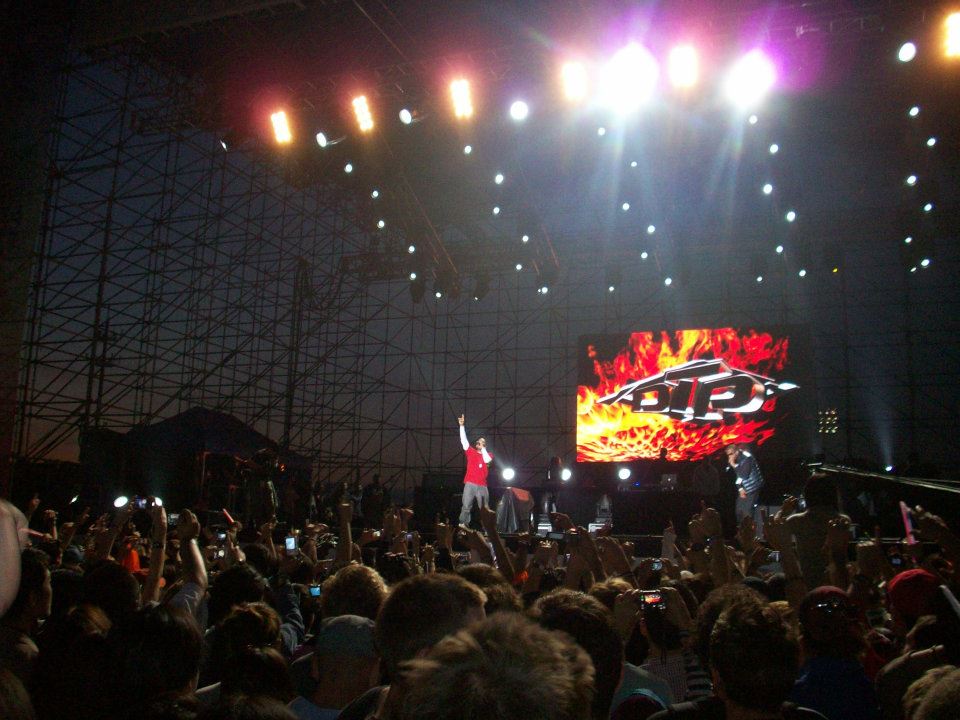 I haven't done much sight seeing yet; it just took so long to get settled! Hopefully now that things are starting to come together I'll be able to find time to see a bit of the things that make Beijing such a famous and historic city. I did go see Beihai Park one afternoon, which is part of the imperial gardens. It was beautiful, and just a taste of what Beijing can potentially offer.