I have a checklist of things to do before I leave Taiwan, because my time in this beautiful country is starting to run out. So Karlis rented a motorcycle and we woke ourselves up at 3am one morning to hit the road and travel the island.  Two and a half days, almost 1000 kilometers, and the highest road in Taiwan.
Blurry eyed and rather uncomfortable on the back of the bike, I tried not to fall asleep as we twisted around curvy mountain roads in the dark of the night. Two hours passed in a chilly daze; we were racing the sunrise.  10 minutes past 5 in the morning, coffee cups in hand, we pulled off the main road just in time to see the sun come up over the East coast. The sky and sea were awash in blues, pinks, and gold.  Sleepy as we were, it was worth the effort.
But we were only getting started on this mad-dash road trip.
For the next 350 kilometers we skirted the shore, keeping the mountains to our left. Up the coast we sped, past the Tropic of Cancer and on to the city of Hualien. We were exhausted and cranky. We sat in a 7-11 drinking more coffee while we googled for a hostel, but we didn't have any luck. We decided to keep moving towards Taroko Gorge, and it was good that we did.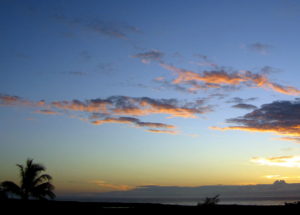 We pulled into Taroko around 2pm and talked to a few hotels before picking the best offer. A little pricier than we'd hoped for, but at least it was settled. We rallied our spirits, excited to have made it to our first real destination, and headed for the Gorge.
Taroko Gorge is incredible. Steep, steely cliff-sides  cut in half by a crystal blue river tower over either side of the road. The road sidles up so close to the stone that it has to carve it's way through at some points; tunnels through rock punctuated with patches of sunlight. Waterfalls tumble from the tops of bluffs to swirl into the river below. Buddhist temples sit nestled onto cliff ridges. We drove the length of the Gorge just taking it all in as the bike glided around the curvy roads.
We stopped at the Shakadang Trail for a short hike along the river, but the main thing we took from that walk was that the Taiwanese are very, very cautious. It was good to stretch our legs after spending the whole day on the motorcycle though, and we wanted to get as much of the Taroko experience in as we could in such a short amount of time.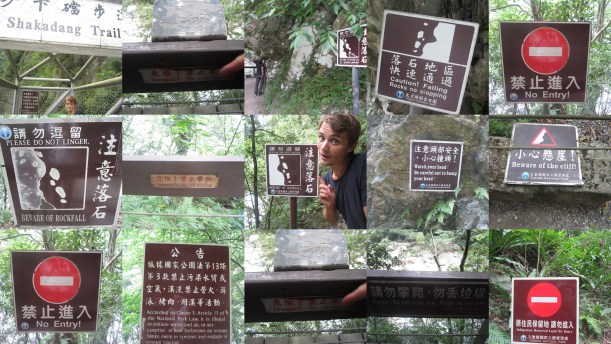 By 6:00 we were passed out in the hotel room. 3am makes for an awfully early start to the day.
But early starts were destined to be an essential part of this roadtrip. We were back up at 4:30 the next morning and once again climbing onto the motorcycle; now we were headed to the highest road in Taiwan, topping out at around 3400 meters.
This road reminded me of another bike trip that Karlis and I had taken when we were in Nepal. The difference was that this view was greener, less hazy. There were more tunnels, more waterfalls, and less almost-careening over edges. It wasn't near as high as the top of the world in the Himalayas, but it was still impressive in a take-your-breath-away kind of pretty.
And this trip pandered to us. We found an empty-but-charming coffee shop just in time for breakfast, complete with wifi in the middle of nowhere. We spotted monkeys leaping across the road. There were emerald valleys, misty mountain-tops, and brilliantly blue skies.
Eventually the road stopped climbing and we made our way to lower ground. Our next stop was Sun Moon Lake, another spot that had long been on my Taiwan to-do list. It's a beautiful place, I'll give it that. A lake surrounded by mountains and jungle with little pontoon boats puttering back and forth on the water; it's all very scenic. But really, that's about all I have to say about it. Beautiful but rather dull; not worth all the hype it gets, in my opinion. I did get a kind of amazing caramel latte at a little cafe. It was the highlight of my trip to the lake.
From there we had a decision to make. Should we head back to Pingtung and make it home right around nightfall? Or should we extend our trip with a detour to Alishan and race the clock in the morning to get back to Pingtung just in time for work? The latter, obviously.
So on we went, back up into the mountains to find our way to the ancient trees in Alishan. But as we climbed in altitude for the second time that day, we soon became enveloped in heavy clouds that coated the road like wet blankets. Damp, cold, and wrapped in a multitude of 7-11 plastic ponchos, we made our way into the little mountain hideaway of Alishan. We found a hotel after a bit of bartering, changed our very wet socks for dry ones, took exhausted deep breaths and set out on foot to explore the forest.
As is so often the case, it was absolutely worth all the trouble. We were wandering the trails late in the evening, after everyone else had abandoned the woods for the day. It was still just light enough to see, and the fog had dissipated so that all was left was a misty breath skirting the roots of the trees. It was just us, staring up at colossal trees that had stood there for over two-thousand years, ancient giants from another time. We whispered jokes to each other about disturbing the fay creatures that were sure to inhabit a place as old and mysterious as this, but stayed quiet, just in case there was some truth to the levity.
As we came into a clearing at the edge of the woods we had to stop. The sun was resting on a bed of fog as it sank down into the mountains, vivid colors streaked the sky in a sunset that was so beautiful it truly took our breath away. We stood there in the cold and watched the sky turn from bright gold to a royal blue, and fade into night.
The next morning, as planned, we rose early one last time and set out; four more hours on the road. By 1:30 I was at my school, drawing up lesson plans for the afternoon with sore muscles, heavy eyelids, and a head swirling with memories from the last few incredible days. This was a trip beyond expectation, and will help define why I spent the last two years of my life loving Taiwan.