10 Reasons to Love Taiwan
I've never made it a secret that I love Taiwan. Like, really love it. But I was talking to a Taiwanese friend the other day; he's been traveling and keeps meeting people that only know that Taiwan isn't in the UN and is claimed by China, and he was starting to get down about his beautiful country. So, to perk him up and inform anyone who doesn't know about this truly awesome place-- here are 10 reasons to love (and be proud of!) Taiwan. 
10. The Convenience Stores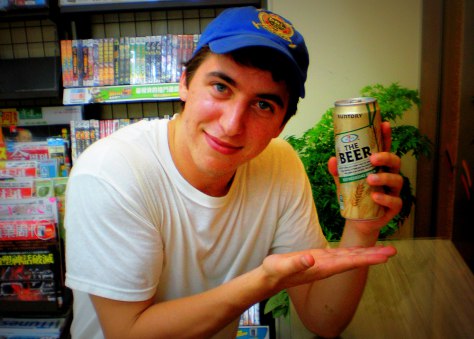 Nope, I'm totally not kidding. Convenience stores are a work of art in Taiwan. The collection of convenience stores here is denser than anywhere else in the world (think: located absolutely everywhere... sometimes 3 or 4 on a single block), and they can do everything. I could get my morning coffee, pay my utility bills, top up my cell phone plan, buy my groceries, send my mail, pick up drinks for that night, maybe grab some lunch, make copies for class, and book train tickets all with one stop at the closest 7-Eleven. They even have their own mascots that are insanely popular. And for the record, 7-Eleven crawls (in lieu of pub crawls, obviously) are very real things. It's like they took the term "convenience store" and applied it as literally as possible, and then some. And the fact that you can find a shop every 50 feet or so makes it even more amazing.
9. The Health Care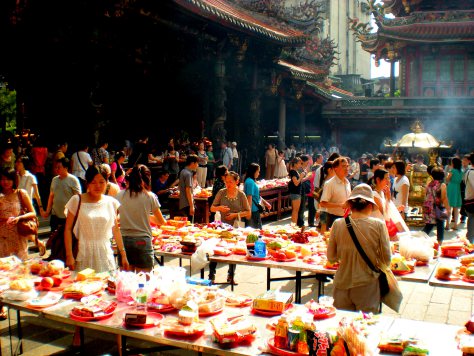 Taiwan's health care is pretty consistently ranked as one of the best and most effective systems in the world. (They aren't considered when WHO does their rankings, because of that whole 'not part of the UN' thing, which frankly is a little ridiculous, but that's how things go.) Taiwan offers full medical coverage for all citizens and legal workers. Data is kept on new smart cards that contain their medical history, so all they need to do is head into a doctor's office and swipe their card. The doctor can check them out, prescribe medicines, and get them taken care of in no time at all.  I got sick while I was living in Taiwan. I saw a doctor right away (for free) and he gave me medicine for two weeks that cost me about $3. You just can't beat that.
8. The Weather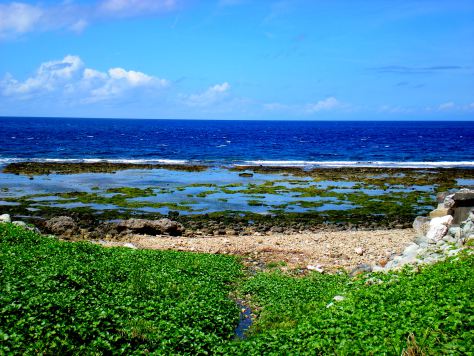 Taiwan is a tropical island. Ok, yes, it gets stormy (and rather too hot) in the summer. But 9 months out of the year it's 75 degrees and usually sunny. Granted, I'm talking about the southern half of the island-- it can rain quite a bit up north, so if you've been there don't contradict me, just go hang out in the south more next time! I'm a summer-time girl, and the year round tank tops and sunshine were kind of perfect.
7. The Food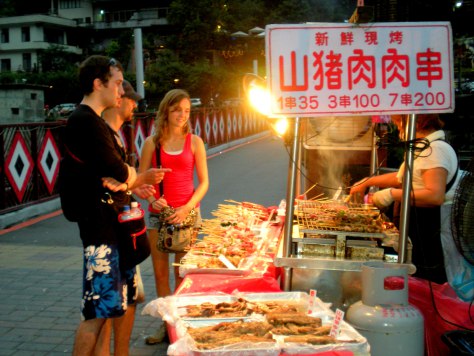 Have you ever had bubble-milk tea? It's turning into a fad in America these days but it originally comes from Taiwan. Chewy tapioca balls dropped into sweet milk tea... I'm thirsty just thinking about it. It's a love it or hate it sort of thing a lot of the time. I hated it at first, I gotta admit. But then I gave it another shot and realized my first impression was stupid because bubble-milk tea is amaze-balls (get it? Amaze-balls, cuz it's made of tapioca balls??).
Taiwan is for foodies. Seriously. Night markets are over-flowing with tasty treats you've gotta try. Fried pork dumplings, spicy grilled chicken, sweet potato balls, bowls of beef noodle soup with green onions and rich broth, and the dan-bing. I dream of dan-bing sometimes when I'm missing Taiwan.  It's a flaky egg pancake dipped in a sweet soy sauce that will blow your mind. Really.
6. The Cities
Taipei and Kaohsiung are incredible cities. Not to blow things out of proportion or anything, but they are. Taipei gets a lot of fuss made over it, and it should. It's a huge city with tons to offer. Taipei 101 is worth a trip to visit just by itself. But Kaohsiung has my heart (and here are 10 things you can do in Kaohsiung while you're checking out my favorite city in the whole-wide-world).
Both cities are hubs for mega-malls, restaurants, bars and dance clubs, night markets, parks, monuments, temples, museums... and just total melting pots for people all over the world to come together. They're filled with lights and colors, steel and glass, with artistic touches in the most unlikely places that just make them truly special cities.
5. The Beaches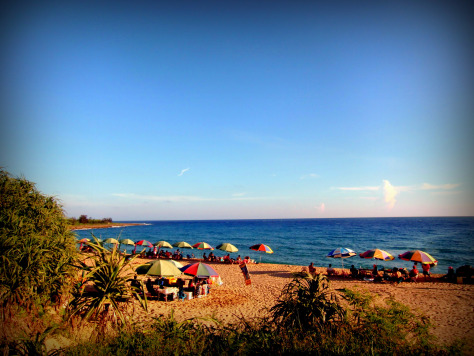 Back to that whole, it's a tropical island thing. You know, no big deal or whatever, but Taiwan's surrounded on all sides by sandy beaches and blue oceans. If that's not a good reason to love Taiwan, I don't know what is. Spend your days sprawling out on the sun-kissed sand while the waves lap against the shore, rent an umbrella and put a cold drink in your hand and you've got bliss. There are action-packed beaches if you're looking for water sports like tubing, parasailing, or wave-runners, and then there are quiet beaches in secluded coves where almost no one ever goes if you're needing that perfect getaway spot.
4. The Mountains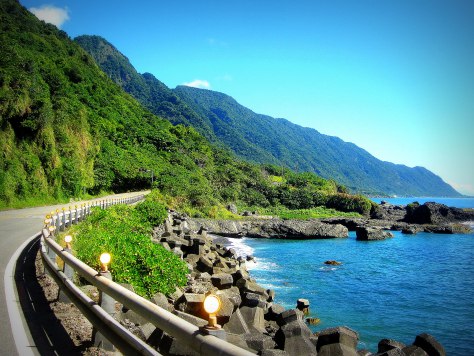 As much as I do love a good beach, I'm actually an even bigger fan of mountains. And of course, Taiwan (being totally awesome) has plenty of jungle-covered mountains, too. For the hikers and adventurers out there, Taiwan's interior is almost all mountains that have a labyrinth of hiking trails and curvy roads for you to explore. Seeing as I'm not actually a huge fan of exercise, I personally love road-trips. Pass through Taroko Gorge to see Asia's own Grand Canyon, cut by a crystal-blue river and hiding ancient temples in its craggy peaks. Drive the highroad to see mountaintops shrouded in mist, make your way to Alishan to walk paths tucked under 2000 year old trees, or just do a day trip to find one of the hundreds of waterfalls that plummet down the mountainside and go for a very memorable swim.
3. The Culture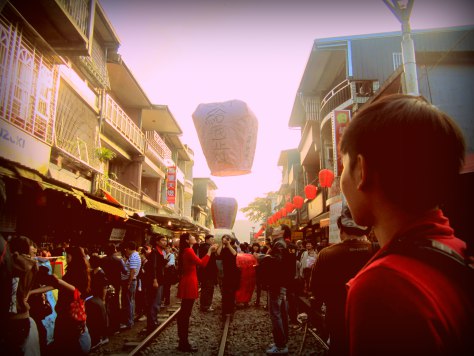 Taiwan is bursting with culture. From hundreds of gorgeous temples honoring Buddhist, Confuscist, and Taoist beliefs, to the 13 aboriginal tribes that dot the island and preserve their ancient ways of life, there is absolutely no shortage of culture to soak up. Did you know that Taiwan has more relics from the Chinese Empire than China does? Sure, the Forbidden City is in Beijing. But all the jewels, furniture and art that filled the Forbidden City are kept in Taipei's National Palace Museum. (It's a complicated history, but basically when the Communists took over China the previous government fled the capital and took all the artifacts with them.) But Taiwan's culture goes so far beyond just its past-- the modern culture is thriving, colorful, high-tech, and filled with beautiful festivals.
2. The Lifestyle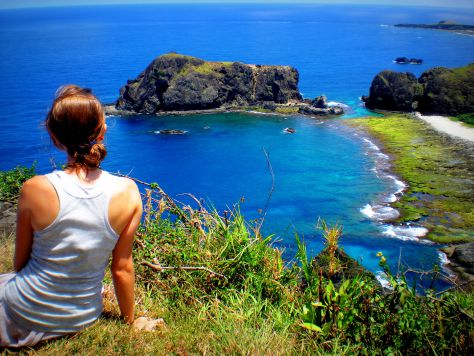 Life in Taiwan is sort of a dream. Things aren't so rushed as they are back home; time is made for some of the simple things. Meals are usually eaten out, and time is taken to enjoy them. A long lunch with friends over tea and fruit platters, afternoons spent at the beach or a waterfall, nights wandering the market or having a drink while sharing a few dishes of local food. The streets may seem hectic with everyone buzzing around on their scooters, but don't let that fool you. The pace is peaceful.
1. The People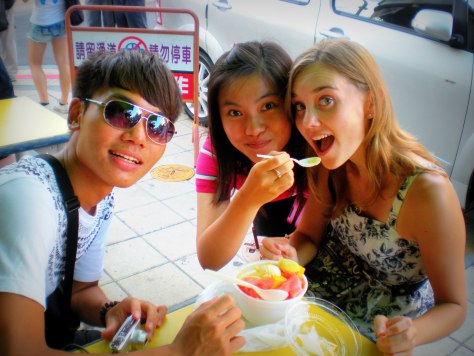 Of all the places I've traveled the people in Taiwan are, without a doubt, the friendliest. Looking lost on a street corner for longer than a minute? Someone is going to stop and help you find your way. Scooter broken down? They'll help you push it to the nearest shop. From personal experience, I can tell you that you'll never really be stranded in Taiwan.
But it's not just when you need help that the locals will step up-- just in your daily interactions people are friendly, open, interested. Whether you speak Chinese or not, whether they speak English or not, they'll find a way to communicate with you. They'll happily engage in a patient game of charades to figure out what you're wanting to say. And that friendliness isn't to be taken lightly. It's special. It's unique. And it's the number one reason I love Taiwan.